Day and half of Bird Photography near Mérida, July 2020.
On July 17, Sergio Pedrero, a nature photographer, contacted me regarding my guiding services for a day and half of bird photography near Merida. He wanted to photograph specifically American Flamingo and Clapper Rail. I told him that I was available and we made plans to go birding the next day in the afternoon.
Sierra Papacal-Chuburna.
Funnily, many people in the Yucatan believe that flamingos are only found either at Rio Lagartos or Celestun. They're wrong, Flamingos can be found pretty much all along the northern coast of the Yucatan state. So, as I knew this, I took Sergio and his friend Gonzalo, to the Sierra Papacal-Chuburna road instead of driving a long way from Merida to one of this other places. This road is only 30 minutes from Merida and goes across the mangrove swamp of Chuburna Puerto, it is usually a very good place to see American Flamingos, Egrets, Shorebirds and even some raptors like Crested Caracara.

After a few minutes there, we found our first group of American Flamingos, not really close, but good enough to get some pictures. As Sergio and Gonzalo were pretty entertained taking pictures of the Flamingos, I started looking for Clapper Rails, they're often silently walking among the roots of the mangrove trees. I found them, and there were four! So I told Sergio to come an see them, as soon as he saw the rails, he raised his camera and starting taking lots of pictures.
Clapper Rail (Rallus crepitans) at Sierra Papacal-Chuburna.
We already had the two target birds of Sergio's trip, but Sierra Papacal-Chuburna was very good as we had some other nice birds like Black-necked Stilt, Whimbrel, Greater Yellowlegs, Least Tern, Black Tern, Magnificent Frigatebird, Reddish Egret, Tropical Kingbird, Mangrove Swallow and Mangrove Warbler.
Male Mangrove Warbler (Setophaga petechia bryanti).

Then, I told Sergio that the Yucatan has many more birds to see, and that I knew a good place for endemic birds, Sergio was very convinced and we headed to Misnebalam.

Misnebalam.
Misnebalam is an old small road, with ranches, pastures and dry forest, very productive and very popular for birders looking to add Lesser Roadrunner to their lifelist. We arrived in Misnebalam at 6:51 pm, and we drove directly to my spot for Black-throated Bobwhite.
Black-throated (Yucatan) Bobwhites are very noisy birds and they're called "Bobwhite" for a good reason, their song sounds exactly like it "bob-whiite". As we reached the place where I often see them, I started hearing this call, and just after a few minutes we saw many of them, about a dozen Black-throated Bobwhites. After Sergio and Gonzalo took pictures of them, we started focusing on the other birds around, there were some Lesser Nighthawks flying around, a single Lesser Roadrunner, Yucatan Jays calling inside the vegetation, Carolina (White-browed) Wren, Olive Sparrow, Orange Oriole and a very showy Botteri's Sparrow.
Botteri's Sparrow (Peucaea botterii) at Misnebalam.
Sergio and Gonzalo liked this place so much, that we returned the next day for some more birding there, bird activity was even better as we had 51 bird species in 2 hours. Including more Black-throated Bobwhites, both Ruddy and Common Ground Doves, White-tipped Dove, Groove-billed Ani, Lesser Roadrunner, Vaux's Swift, Canivet's Emerald, Buff-bellied Hummingbird, White-tailed Hawk, Ferruginous Pygmy Owl, Black-headed Trogon, Turquoise-browed Motmot, Yucatan Woodpecker, White-fronted Parrot, Dusky-capped, Yucatan and Brown-crested Flycatchers, Boat-billed Flycatcher, Mangrove Vireo, Yucatan Jay, Yucatan Gnatcatcher, White-bellied Wren, Scrub Euphonia, Yellow-billed Cacique, Orange Oriole, Gray-crowned Yellowthroat, Gray-throated Chat and more!
Complete eBird checklist here: Birding at Misnebalam, July 2020
Progreso.
Then, we drove a little more towards the coast, to a dirt road I know, looking for Yucatan Wren, we saw 5 of them, and also some other nice birds including about 300 American Flamingos, Ruddy Crake, Sandwich Tern, Magnificent Frigatebird, Olive-throated Parakeet, Barred Antshrike, Common Tody Flycatcher, Couch's Kingbird, Yucatan Gnatcatcher, Spot-breasted Wren, Hooded Oriole, Mangrove Warbler, Morelet's Seedeater and Grayish Saltator.

Yucatan Wren (Campylorhynchus yucatanicus) at Progreso.

Weather was getting very hot, so we decided to rest for a few hours and then go birding again in the afternoon. At 5:30 pm we arrived to the birding place where we would be looking for Mexican Sheartail. The afternoon was wonderful, as we had superb views of our target bird the Mexican Sheartail and of an adult male Yucatan Gnatcatcher above and agave tree. Some other nice birds include Black-throated Bobwhite, Yellow-billed Cuckoo, Cinnamon Hummingbird, Ladder-backed Woodpecker, Rose-throated Becard, Social Flycatcher, both Tropical and Couch's Kingbird, Rufous-browed Peppershrike, Mangrove Vireo, Yucatan Wren, Olive Sparrow and Northern Cardinal.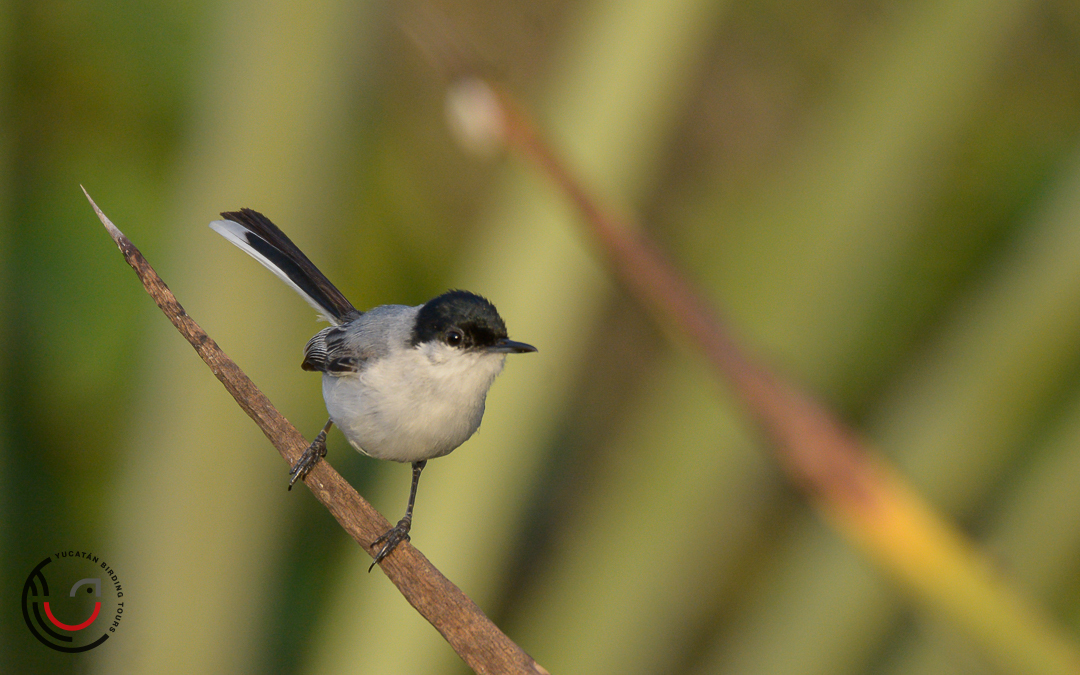 Adult male Yucatan Gnatcatcher (Polioptila albiventris) near Progreso.
This was the end of the trip as Sergio and Gonzalo had to drive all the way back to Chiapas the next day. The overall total bird species seen and heard was 91.

Written by Luis Trinchan Guerra.