Personalized Birding Tour at Rio Lagartos, Valladolid and Mérida, December 2019.
This Personalized Birding Tour was designed for Tina Cohen and her friend Tracey. It was a day and a half birding tour at Rio Lagartos and Valladolid and then an extra day only for Tina near Merida. They hired both Ramon Trinchan and I (Luis Trinchan) as their birding guides for the tour.
Rio Lagartos Biosphere Reserve.
This birding tour started at the Rio Lagartos Biosphere Reserve, where we picked up Tina and Tracey early in the morning at their hotel and we drove for some 20 minutes to "Las Coloradas", a very popular place for its pink water and good amounts of Flamingos.
We spent about one and a half hours there looking at flamingos, shorebirds, terns and some other birds with the spotting scope. Some of the highlights for las Coloradas include: American Flamingo, Mangrove Cuckoo, Gull-billed Tern, Royal Tern, Osprey, Crested Caracara, Tropical Kingbird, Tropical Mockingbird, Hooded Oriole.
American Flamingo (Phoenicopterus ruber) flying.
Then, we headed back to Rio Lagartos, and we went to 2 birding trails inside the mangrove forests, not many birds, but we saw some north american warblers like Northern Waterthrush, Black and White Warbler, Common Yellowthroat, American Redstart, Northern Parula and Magnolia Warbler.
On our way to have a look at some hummingbird feeders, we found Ruddy Turnstone, Laughing Gull, Anhinga and Double-crested Cormorant. And then at the hummingbird feeders, we saw 4 Mexican Sheartails and 2 Cinnamon Hummingbirds.
Mexican Sheartail (Doricha eliza) one of the main targets for birders coming to the Yucatan Peninsula.

After that, we left Rio Lagartos and we started slowly driving along the San Felipe Road, this road goes across a swampy flooded area with some patches of dry thorn scrub, so, this mixture of habitats makes it usually very productive. We were making stops everytime we saw some good bird activity.
After 2 hours and about 2.5 km, we saw 47 bird species, including Mexican Sheartail, Ruby-throated Hummingbird, Cinnamon Hummingbird, Sora, Northern Jacana, Wilson's Snipe, Lesser Yellow-headed Vulture, Great Black Hawk, Gray Hawk, Crested Caracara, Olive-throated Parakeet, Vermillion Flycatcher, Couch's Kingbird, Mangrove Vireo, Yucatan Wren, Morelet's Seedeater and we even found a rare sighting for the Yucatan Peninsula an Eastern Phoebe.
Eastern Phoebe (Sayornis phoebe) at the San Felipe Road.

Complete eBird checklist here: Birding at the San Felipe Road
We headed back to Rio Lagartos and made a stop for lunch, after that at 2:30 pm we left the town and we started driving again to Las Coloradas, this time, we would drive a little further.
On the way to Las Coloradas, we made a stop at a small hidden lagoon, where we had some good bird activity, some of the birds we added to the trip list there include: Northern Shoveler, Pied-billed Grebe, Groove-billed Ani, Belted Kingfisher, Rufous-browed Peppershrike, Blue-gray Gnatcatcher, Melodious Blackbird, Indigo Bunting and Painted Bunting.
We arrived in Las Coloradas and again, we started driving slowly and making stops everytime we saw some good bird activity, using our binoculars and the spotting scope. Some highlights from our second time at las Coloradas include: Semipalmated Plover, Whimbrel, Sanderling, Western Sandpiper, Herring Gull, Lesser Black-backed Gull, Brown Pelican, Tropical Mockingbird, Hooded Oriole and Northern Cardinal.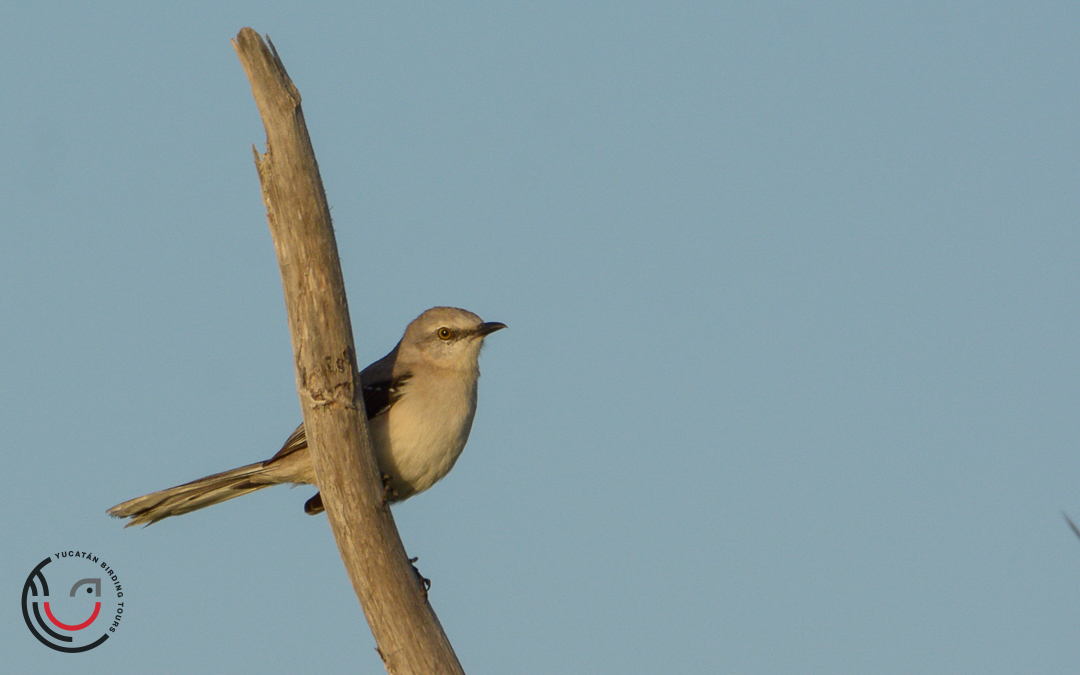 Tropical Mockingbird (Mimus gilvus) at Las Coloradas, Yucatan.

Valladolid and Xocen.
The next day, we left Rio Lagartos early in the morning and started driving towards Valladolid. On the way, we found a pair of Bat Falcons, incredible small raptors.
Then, we arrived to our destination, Xocen, a small town 15 minutes from Valladolid city. We parked the car outside the birding trail, and started walking along it for almost 4 hours and about 2 km. We had some really good birding there as we saw and heard 55 bird species including: Squirrel Cuckoo, Canivet's Emerald, Wedge-tailed Sabrewing, Buff-bellied Hummingbird, Roadside Hawk, Gartered Trogon, Turquoise-browed Motmot, Ruddy Woodcreeper, Northern Bentbill, Greenish Elaenia, Tropical Pewee, Boat-billed Flycatcher, Rufous-browed Peppershrike, Long-billed Gnatwren, Black Catbird, Red-throated Ant-Tanager, Gray-throated Chat, Blue Bunting and Gray-headed Tanager.
Wedge-tailed Sabrewing (Campylopterus curvipennis).
Complete eBird checklist here: Birding at Xocen

After our morning birding at Xocen, Ramon and I took Tina and Tracey to their hotel at Valladolid where they spent some days for some other activities. Ramon and I went back home at Merida.
Merida.
On December 22, Tina arrived in Merida from Valladolid, and we picked her up at the bus station. We took Tina to 3 different ecological parks inside Merida, some of the highlights include: Ruddy Ground Dove, Least Grebe, Limpkin, Neotropic Cormorant, Vaux's Swift, Yucatan Woodpecker, Yellow-bellied Sapsucker, Snail Kite, Peregrine Falcon, Rose-throated Becard, Ridgway's Rough-winged Swallow, Yellow-throated Vireo, Green Jay, Yucatan Jay, Clay-colored Thrush, Hooded and Altamira Orioles, Yellow-throated Warbler, Black-throated Green Warbler, Summer Tanager, Blue-gray Tanager, Grayish Saltator.
Yucatan Jay (Cyanocorax yucatanicus) endemic to the Yucatan Peninsula.
At noon, we took Tina to her hotel just outside Merida and that was the end of the birding tour. The overall total species seen and heard was 152.
Written by Luis Trinchan Guerra