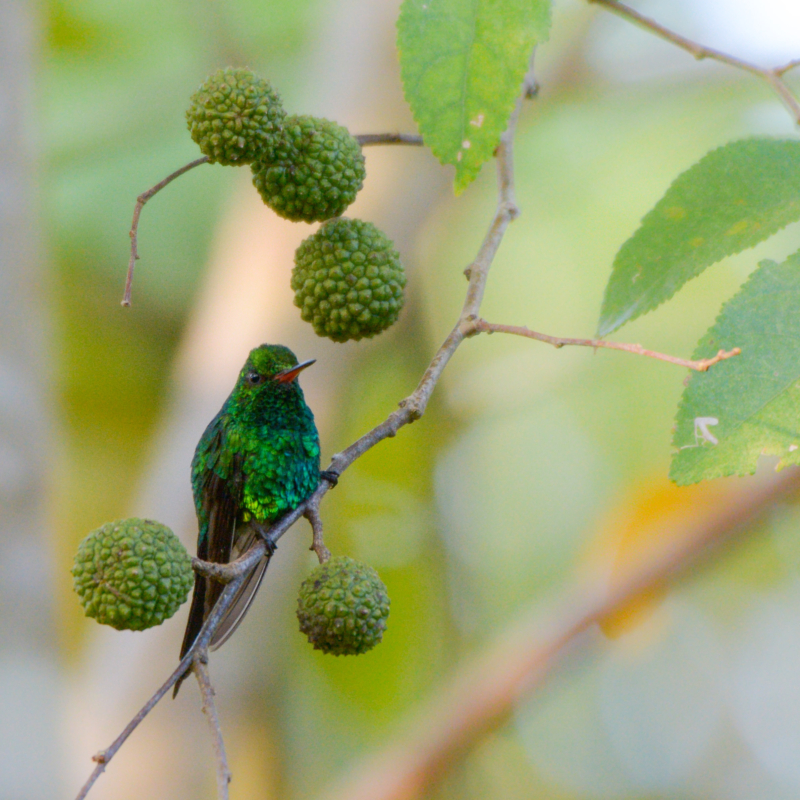 8 day personalized Birding Tour around the Yucatan Peninsula
This birding tour was specially designed for Ben Geldenhuis from South Africa. He came to Mexico on March, 2021 doing a comprehensive birding tour including the Veracruz, Chiapas and Oaxaca states aside from the Yucatan Peninsula. The tour started at Escárcega, Campeche on March, 14, where I (Luis) waited for Ben to arrive from Chiapas to start the birding adventure the next day.
Calakmul Archaelogical Site.
Me and Ben left early in the morning from Escarcega and headed to Calakmul Archaeological Site to do birding from 6:30 am to 4:00 pm. Weather was nice, warm and a little humid, bird activity was really good. We started birding the Calakmul Archaeological Site's road which is around 60 km from the main entrance to the archaeological site, highlights for the road were:
Yucatan Flycatcher.
Gray-throated Chat.
Ocellated Turkey.
King Vulture.
Carolina (White-browed) Wren.
Sungrebe.
Yucatan Woodpecker.
Morelet's Crocodile.
After getting some superb views of many of our targets, we headed to the Calakmul Archaeological Site, we paid our fees to get inside the mayan ruins and then started birding there. Weather was getting hot, but that wasn't really bottering us because we were getting some really good birds and amazing views from the top of the mayan ruins (Ben described looking at the prime forest of the Calakmul Biosphere Reserve from the top of the ruins as a "sea of green", a very good way to describe how well preserved this forest is). Highlights for the archaeological site were:
Northern Royal Flycatcher.
Wedge-tailed Saberwing.
Mottled Owl.
Black-headed Trogon.
Keel-billed Toucan.
Pale-billed Woodpecker.
Barred Forest-Falcon.
Tropical Gnatcatcher.
White-bellied Wren.
Barred Forest-Falcon at Calakmul Archaeological Site.

Mérida's surroundings.
The next day, we left our hotel in Campeche and headed to the city of Mérida in the Yucatán state, the plan that day was to go to the coast (which is a 30 minute drive from the city) and look for 3 specific endemic target birds. The habitat at the north coast of the yucatan state is a combination of mangroves, coastal dune and shrub, wetlands and savannas, so that combination is really good to pick up checklist of 50+ birds in a few hours. Luckily for us, we found the 3 target birds we wanted and also got another two target birds there. The highlights from that day's afternoon birding were:
Yucatan Wren.
Yucatan Gnatcatcher.
Mexican Sheartail.
Hooded Oriole.
Clapper Rail.
Reddish Egret.
Gull-billed Tern.
American Flamingo.
On march 17 we went birding to the Misnebalam road which combines two different habitats from each side of the road, one being tropical dry forest and the other one being ranches and pastures. This was our site to look for many endemic species like Black-throated Bobwhite, Orange Oriole and a few raptors, we spent around 2 hours there and got to see many of our targets. Highlights for the Misnebalam road included:
Black-throated Bobwhite.
Yucatan Flycatcher.
Mangrove Vireo.
Ridgway's Rough-winged Swallow.
Botteri's Sparrow.
Orange Oriole.
Gray-throated Chat.
After that we went to the coast, to a place called "San Crisanto" which is Northeast in the Yucatan state, this place has some salt ponds with shallow water and mud flats, we went there looking for a Piping Plover, unfortunately we didn't get it, but we got many shorebirds, gulls and terns to boost Ben's Mexico Checklist. Some of the most interesting sightings from San Crisanto's Salt ponds and mudflats were:
Northern Shoveler.
American Flamingo.
Snowy Plover.
Red Knot.
Lesser Black-backed Gull.
Caspian Tern.
Xocen.
The next day (March 18) we left Mérida early in the morning and drove for 2 hours to a small mayan town near Valladolid called "Xocen", this town has a very good birding trail with well preserved tropical forests, we had many tricky targets there. So, we parked the car and started walking the birding trail, just after a few 2 minutes of walking and our first target bird appeared, a beautiful male Rose-throated Tanager perched on top of a tree.
Rose-throated Tanager at Xocen.
We spent around 4 hours at the trail, our checklist for that morning was 62 species, and 3 of Ben's target species including Green-backed Sparrow, Yucatan Jay and of course the Rose-throated Tanager.
After that, we went back to Valladolid to have a wonderful lunch eating some yucatecan food and to rest for a few hours until we headed back to the birding trail again, this was our second try for our targets, weather wasn't very helpful, but we managed to see many north american warblers, a couple Yellow-lored Parrots perched quietly and a flock of very noisy Yucatan Jays interacting.
The next morning we went to the same birding trail for the third time (this is a very big birding trail, so we could always go a little further inside the car and then walk a few kilometers), bird activity was amazing, since it was raining the whole night, birds were very active feeding like crazy in the morning. We've had some very confident Red-throated Ant Tanagers, Gray-headed Tanagers and Dusky-capped Flycatcher hunting ants, both White-fronted and Yellow-lored Parrot perched on the same tree, and we even managed to take pictures of the very shy Caribbean Dove.
Yellow-lored Parrot at Xocen.
After our last morning birding at Xocen, we went for lunch, grabbed our stuff and drove for a few hours to Calica ferry terminal near Playa del Carmen, were we took a ferry to the Cozumel Island.
Cozumel Island.
For our first morning at Cozumel Island, we went to a small town called "El Cedral" this is my favourite place to go birding in Cozumel and I will highly recommend visiting it. We drove for half an hour from our hotel to El Cedral, just as we were getting inside the town I heard the first one of our target species, the Cozumel Wren which is an endemic subespecies of the House Wren, we've had some great views of this bird singing on some branches next to the main road.
Cozumel Wren at El Cedral town.
After that it was like a birding parade, every bird I was listening to, was a target species for Ben, so we started getting incredible birds one after another, Cozumel Bananaquit, White-crowned Pigeon, Yucatan Vireo, Cozumel Vireo, etc. So after 2 and half hours, we already had everything Ben needed for his Cozumel Island Checklist, but also a few extra, as a Louisiana Waterthrush showed up in the middle of the birding trail.
We decided that we should treat ourselves with a good breakfast and after that we would go to the coast and try to get an early Least Tern, and so we did, unfortunately we didn't get any Least Terns (too early for them) but we did get some really nice birds such as a beautiful adult Roseate Spoonbill as bright and pink as can be, lots of Blue-winged Teals and also a rare bird for the Peninsula a Green-winged Teal. We decided to go back to the hotel, rest for a few hours and then go to another birding hotspot and try to get some better views of a few endemics.
So at 3:30 pm we were arriving to the Cozumel Planetarium, where we got some incredible views of the Cozumel subespecies of Western Spindalis and Cozumel Vireo.
Cozumel subspecies of Western Spindalis at the Cozumel Planetarium.
After taking lots of pictures of these beautiful endemic birds, we decided to give the coast another try, and it wasn't dissapointing at all, and no, we did not get the Least Tern, but instead we found a georgeus Yucatan White-tailed Deer feeding on grass just next to the pond where we found the Green-winged Teal, and this deer was not really paying attention to us, so we were able to look at it for some good 10 minutes and study a few of its behaviour, age and sex.
Yucatan subspecies of White-tailed Deer at the southern coast of the Cozumel Island.
Birding at the Cozumel island was probably my favourite part of this trip and I'm sure Ben enjoyed it to! These are some of the highlights for our trip to Cozumel:
Cozumel Vireo
Cozumel Emerald
Bananaquit
Western Spindalis
Caribbean Elaenia
Yucatan Woodpecker
Louisiana Waterthrush
Yucatan Vireo
Green-breasted Mango
Cozumel Blue-gray Gnatcatcher
Golden Warbler

Caribbean Dove

Cozumel Rufous-browed Peppershrike.

This was basically the end of the birding trip, as we had to take a ferry back to Calica the next day and then drive to Cancún so Ben could take a plane back home. Although on our way to have dinner we've had some Lesser Nighthawks hunting for insects at night!
The overall total species seen and heard for this birding tour was 195.
Written by Luis Trinchan Guerra